Macbeth
Informational Meeting at Belt Performing Arts Center
Saturday, Dec. 7 at 2 pm
The Belt Player's and Ekow Quartey, "Lysander" in A Midsummer Night's Dream at the Globe in London.
August 2019 in Edinburgh, Scotland
 

What we do…
The Belt Valley Shakespeare Players is a non-profit youth theater that fosters community, intellectual curiosity, creativity, and confidence with personal and public expression primarily through the study, practice, and performance of the works of William Shakespeare.
How we do it…
– New Member of the Shakespeare Theatre Association
– Selected for the 2019 American High School Theatre Festival at the Edinburgh Festival Fringe — Belt Valley Shakespeare is Heading Back to Scotland!
– Affiliated with Allied Arts Foundation 
With a little attitude, unwinding on an early morning hike to the top of
"Arthur's Seat," Edinburgh's tallest promontory,
Edinburgh
Performance Four
Warmups for performance three in Central Hall
A very satisfied cast after our second performance in Central Hall. We are meeting our high expectations. More to come…
Prospero and Miranda in Act I of The Tempest
The last three days in Edinburgh have been, well, a tempest. Today we visited the Scottish Parliament, completed our tech rehearsal, "busked" (handed out leaflets) on the Royal Mile, and did final preparations for our first performance tomorrow.
Edinburgh Central Hall
Tech Rehearsal (a real eye-opener)
After the Hamilton Flash Mob (250 students)
Doing what they do best: Experiencing the world!

First London then off to Edinburgh!
Fantastic two days in London, where we saw the most traditional of plays in the Globe with Much Ado About Nothing, then the most technologically enhanced, the RSC's The Tempest at the Barbican. Now in beautiful Edinburgh, we are preparing for our technical rehearsal to be followed by our first performance in Edinburgh's Central Hall Auditorium. Stay tuned!
Thanks to the Great Audience at Paris Gibson Square!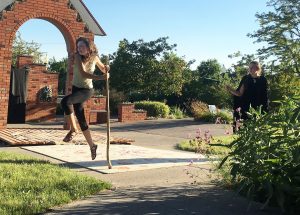 Outdoors at Paris Gibson Square Museum of Art 
Our last Performance Before Edinburgh, Scotland
Bozeman Black Box

Join us in Scotland at Edinburgh's Central Hall 
For Our Performance of
 Shakespeare's The Tempest

Support Belt on the Fringe!
An open letter to our friends and future supporters…
Dear Friends, An inspiring story is developing in our own Montana backyard and I want you to know about it! The Belt Valley Shakespeare Players, our youth theater troupe, has been selected by the American High School Theatre Festival to perform at the 2017 Edinburgh Festival Fringe, the largest and most prestigious performing arts festival in the world! Stretching from Hawaii to Maine, Florida to Alaska, we are one of only 50 "top" US and Canadian high school programs selected to perform in Scotland.
Our high school actors will begin their two-week tour next August, first to London, and then to Scotland where we will perform Shakespeare's The Tempest for international audiences at the Fringe. That's right. Our young Montanans are traveling to the British Isles to perform Shakespeare! Imagine the dedication, skill, and confidence required to embrace this kind of challenge; and embrace it we have. International Performances, Not Just an Educational "Trip" to Europe Our selection as one of the "elite" programs in the United States is a great honor, especially for such a small program, but just being selected is not enough. To fulfill the promise we need your participation. Getting to Scotland and underwriting our four performances will take nearly $7,000 for each actor, crewmember, directors, and chaperones, 16 total. Do the math. It's a substantial amount of money, but not unreasonable when you consider these funds cover flights, ground transportation, housing, workshops, tours, theater tickets, and all the costs associated with four productions in Edinburgh. Approximately 28% of the total are production costs.
Caliban and Trinculo
This international honor is a once in a lifetime opportunity for our students, and a point of pride for our Montana community. Kevin Asselin, Executive Artistic director of Montana Shakespeare in the Parks, calls participation at the Fringe a "life-changing event." Participating directors all agree with Kevin's assessment. Whether an immediate and profound transformation, or one that is more gradual, students will explore and express themselves within the "world community." Moreover, this journey of discovery also has the potential to significantly impact students in neighboring Montana communities where students may now see a special opportunity perhaps never before available to them. With your assistance this can be a defining moment for the development of youth theater in central Montana. With the restoration and opening of the Belt Performing Arts Center this coming spring, we have the opportunity to develop a nationally recognized program in which young people from around the region can participate and belong. Our Mission: The Belt Valley Shakespeare Players is a non-profit youth theater that fosters community, intellectual curiosity, creativity, and confidence with personal and public expression primarily through the study, practice, and performance of the works of William Shakespeare. As an educator and director, I believe all students, including those from small rural communities, should have the opportunity to participate in a theater program worthy of their interests and talent. In fact BVSP does not audition for inclusion in our plays; all participants have speaking roles. We have seen what happens when our young people take advantage of even the narrowest opportunity to the performing arts.
Over the last five years our actors have mastered our "disadvantages," transforming a program with no tradition, no stage, few resources, and guided by a "green" director, into a troupe now garnering national recognition. Nevertheless, even with our material challenges, we have never identified ourselves as an "underdog" because talent, energy, confidence and perseverance are internal markers of individual and collective character, not the external characteristics of a well-funded program or theatrical space. How Much Do We Value the Arts? The evidence of our support for the performing arts, or lack thereof, can be found all around us. Young people quickly discern what a community values by what that community chooses to build. And with the restoration of the Belt Performing Arts Center and our youth theater program's recognition and invitation to Scotland, the stars are now fully aligned for vibrant youth theater in our region. With your help our journey to Edinburgh's Festival Fringe can be the catalyst for the continuing development of the performing arts both within and beyond the Belt Valley. Join us and be a part of this story. Our actors and parents are currently heavily involved in fundraising. Please consider helping the Players with a generous tax-deductible contribution. You may contribute online below or mail your contribution to Belt High School. If you would like more information or would just like to chat, please email, write, or call and I will be happy to answer any questions you may have.